Wiele przygotowań, trochę stresu, szczypta entuzjazmu i Dzień Ziemi za nami.
23 kwietnia zaangażowaliśmy się we współorganizację Dnia Ziemi, z inicjatywy Fundacji Edukacji Leśnej Drzewice. Przebieg tego wydarzenia przerósł nasze najśmielsze oczekiwania. Wszyscy jesteśmy pod ogromnym wrażeniem zaangażowania twórców, wolontariuszy i gości.
Cieszymy się, że tak licznie przybyliście na nasze wydarzenie i z ogromną chęcią i entuzjazmem braliście udział w warsztatach, grze miejskiej czy degustowaliście dzikie pesto. Ten dzień pokazał cudne współdziałanie mieszkańców miasta (młodych i tych starszych), gości z Ukrainy i wszystkich organizatorów.
Idea Dnia Ziemi zrodziła się zimą a dzisiaj to premiera działań wokół Ogrodu Społecznego, który wkrótce powstanie na Zatorzu, za CEIK-iem. Naszym marzeniem jest wypełnić to miejsce roślinnością, życiem i radosną twórczością!
Do zobaczenia za rok!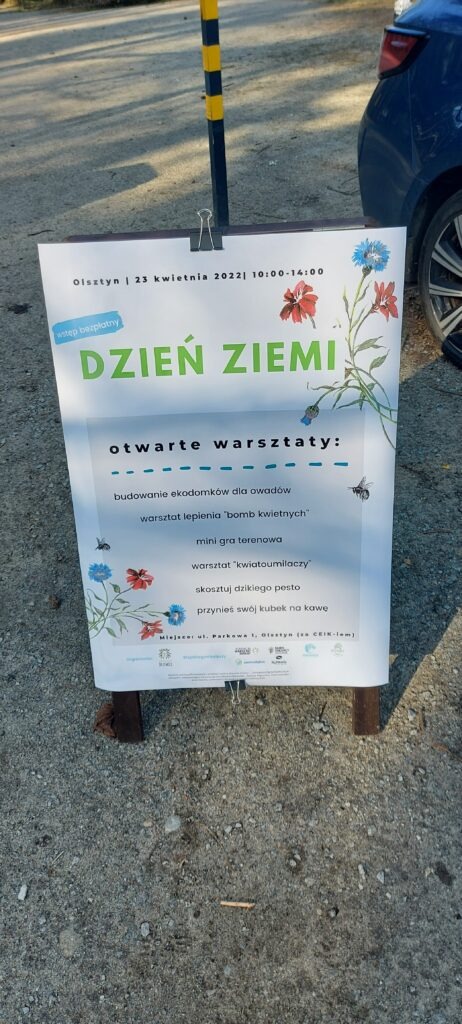 Wydarzenie finansowane w ramach projektu "Ekologiczny Ogród Społeczny w Olsztynie", realizowanego przez Fundację Warsztat Zmiany, dzięki dotacji z programu Aktywni Obywatele – Fundusz Regionalny, finansowanego przez Islandię, Lichtenstein i Norwegię w ramach Funduszy EOG.