Tak rowerowo to u nas jeszcze nie było!
W minioną sobotę mieliśmy przyjemność gościć 100 rowerzystek i rowerzystów z Olsztyna i okolic. Brali oni udział w rowerowej grze miejskiej, zorganizowanej z okazji obchodów Dnia Europy 2022.
Na zielonych tarasach CEIK znajdowała się meta wydarzenia, dlatego tajemnicę zachowaliśmy do ostatnich chwil!
Wszyscy uczestnicy zostali napojeni i nakarmieni, znalazła się też strefa odpoczynku, bo trasa rajdu, mimo wszystko, była dość wymagająca.
Uczestnicy mieli też okazję dowiedzieć się o realizowanym przez nas projekcie – "Ekologiczny Ogród Społeczny w Olsztynie". Wszystko to dlatego, że meta znajdowała się w miejscu, gdzie wspomniany ogród powstanie.
Główni organizatorzy wydarzenia:
Europe Direct – Olsztyn
Warmińsko-Mazurska Izba Rolnicza
Stowarzyszenie Aktywności Społecznej "Młyn"
Rowerowy Olsztyn
EURES przy Warmińsko-Mazurskiej Wojewódzkiej Komendzie OHP
Enterprise Europe Network przy Centrum Innowacji i Transferu Technologii – Uniwersytet Warmińsko-Mazurski w Olsztynie
Enterprise Europe Network przy Warmińsko-Mazurskiej Agencji Rozwoju Regionalnego.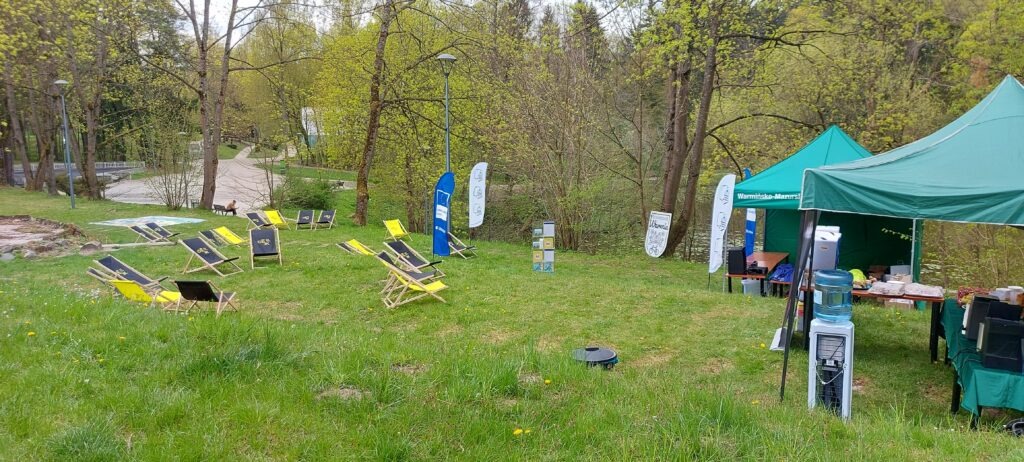 Wydarzenie odbyło się w ramach projektu "Ekologiczny Ogród Społeczny w Olsztynie", realizowanego przez Fundację Warsztat Zmiany, dzięki dotacji z programu Aktywni Obywatele – Fundusz Regionalny, finansowanego przez Islandię, Lichtenstein i Norwegię w ramach Funduszy EOG.